How are you hydrating this summer?
It's hot out. Really hot. And it's getting hotter with July just around the corner. As a fair-skinned and freckled person, I know some of the major dangers of this hot weather. My daily checklist looks something like this:

Sunglasses

50+ Sunscreen

Glamorous, yet practical summer hat
Now I know not everyone gets the pleasure of wondering "will I look like a lobster today?" after summer fun in the sun, but there is something else on my checklist that everyone should remember to grab:

Filled reusable water bottle
When it comes to necessities, water is pretty high on the list considering we humans can only survive about three days without it. Fortunately for a number of us on this planet, we don't have to worry about being able to get a drink of water today. We can access water from our sinks at home, through hookups in modern-day fridges or by just popping into the convenience store down the street and picking up a disposable water bottle.
However, I have an issue with that last choice. I'll admit, it is pretty nice to be able to pick up a disposable water bottle in a convenience store because it is just that: convenient. What isn't so nice and convenient is the cost of disposable water bottles over time to the consumer and the environment.
Just say "No" to disposable.
At a young age, I developed a stigma towards buying water. Why would I buy something that I can get for free out of the sink? Truth be told, it wasn't quite free considering there's always a water bill at the end of the month (something I've learned now that I'm older and wiser); but it's still much more affordable than buying bottled water (about 2,000 times cheaper actually according to The Story of Bottled Water).
In his piece Message in a Bottle, Charles Fishman points out that the average American goes through about 167 plastic water bottles a year. Last time I checked, water bottles averaged around $2.00 a pop. That's a lot of money to be wasted on plastic each year. No thanks.
What I didn't realize before I started working at BSTI was the huge impact that plastic water bottles have on something that wasn't my bank account; the environment is greatly affected by disposable plastic water bottles.
The day I started working at BSTI, I was given a gigantic reusable water bottle.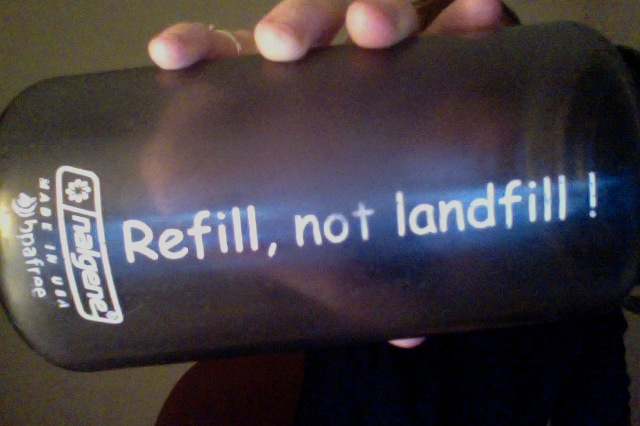 Inside the bottle was a handy little fact sheet about why BSTI supports the use of reusable water bottles.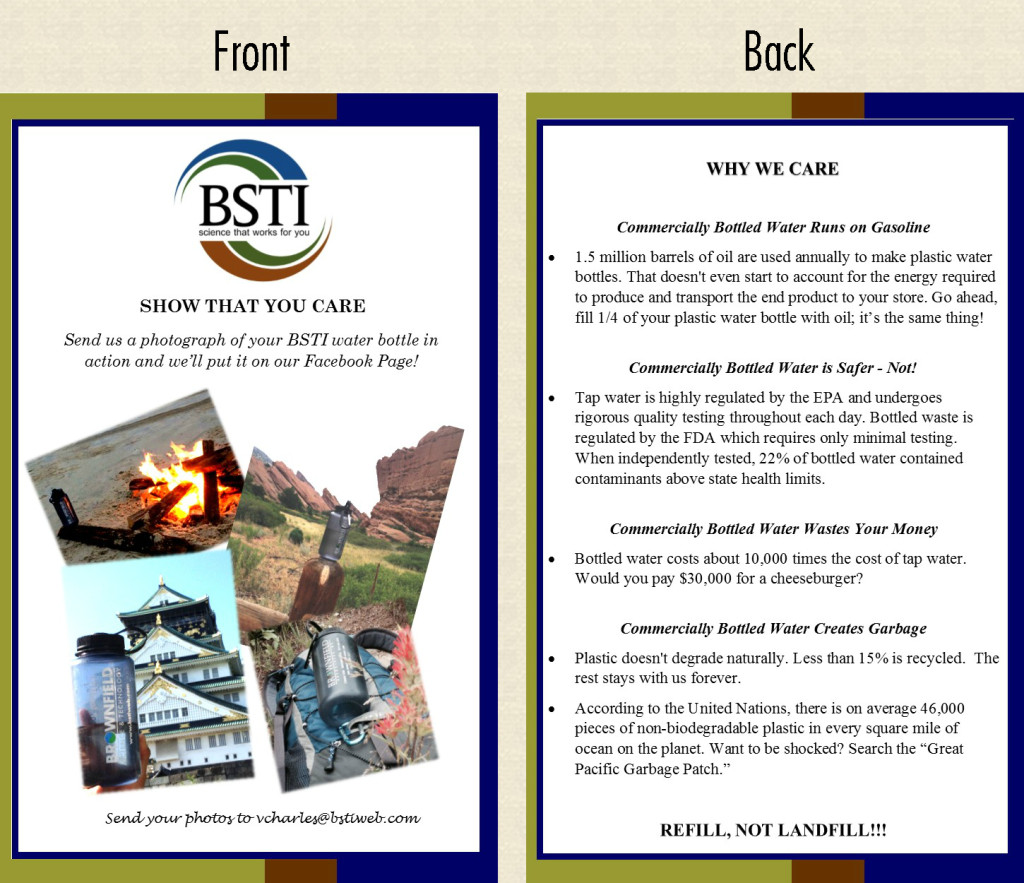 This fact sheet brings attention to the environmental impact that plastic water bottles create. Not only does it point out that tap water is more regulated than bottled water, the fact sheet also brings to attention that plastic doesn't degrade naturally. It states, "Less than 15% [of plastic water bottles are] recycled. The rest stay with us forever."
Forever is a long time. With more and more plastic being produced each day due to people purchasing more and more disposable plastic water bottles, it's sure to get very crowded on our planet in the future. Just look at what it's already done to our oceans.
Stop, think and choose #refillnotlandfill
Good habits don't happen right away, so I'm not expecting everyone to do a 180 and use only a reusable water bottle immediately. But next time you go to grab a disposable water bottle at a convenience store, consider your wallet and your planet. Fill up one of those plastic water bottles sitting in your passenger seat, or send me a message and we'll figure out how to get you a free BSTI water bottle.