Take simple steps to keep you alerted.
Staying aware of developing weather is critical to taking timely action for the safety of personnel and property. Tracking weather may not be high on your list of priorities during a busy workday, so take the time now to make sure that information will come to you when you need it.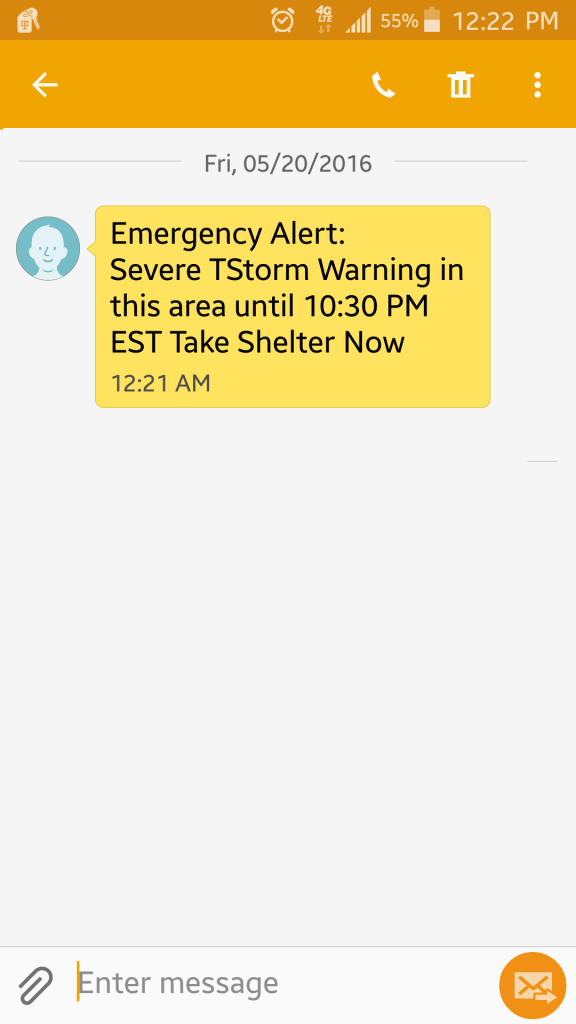 Be sure to activate emergency alerts if available on your phone.
Every phone is different, so there isn't one simple way to turn on alerts. Refer to the phone's user manual or use the internet to search how to allow emergency alerts to be sent to your phone.
Consider getting a NOAA radio and programming it to receive alarms for your county.
NOAA radios are available online or in many stores. Learn more about NOAA weather radio at: http://www.nws.noaa.gov/nwr/
Sign up for text and email alerts.
A number of third party services allow you to subscribe to National Weather Service alerts and warnings by email and text message, so consider using the following link to sign up for a service: http://www.weather.gov/subscribe
You can also sign up for alerts based on USGS stream gauge data, a good idea if you have a site vulnerable to inland flooding:  http://water.usgs.gov/wateralert/
For additional sources, check out:
http://www.nws.noaa.gov/com/weatherreadynation/news/160404_hurricane_info.html
Bookmark the links most relevant to you so you can find them easily the next time bad weather threatens.